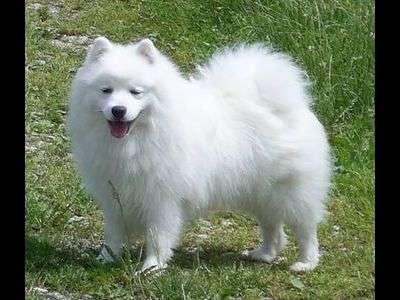 Deși Spitzul japonez – numit Nihon Supittsu în țara sa de origine – nu prezintă un arbore genealogic complex, acest aspect nu îi fură din farmecul și calitățile acestui animal frumos și nobil. În această rasă se reunesc cele mai bune caracteristici ale raselor de Spitz. Blana albă ca zăpadă îi conferă un aspect deosebit de fermecător, dar spitzul punctează și prin inteligență și firea sa prietenoasă.
This Japanese toy-dog is to be assumed Chinese originally. It could be a crossed product, in any case the Tibet Spaniel could be involved. Japanese breeders tried to form the Japan Chin smaller and smaller, they even gave it sake to drink with the intention to reduce the puppies' hight. The smaller the miniature dogs were, the worther they were. They were kept like birds in cages of bamboo and carried around in the long, colourful, florid dresses of the Japanese women, that's why they are also called "sleeve dogs". But those soft, slenderly pets had very little strength and resistance, so later they should become taller again.
The first Japan Chins, with those no breeding success had occured, came as a Japanese empress' present for the German empress to Germany in the year 1880. Because the look of the Japan Chin impressed the public very much, it was imported more and more from its homeland Japan. Both the exotic beauty and the character of the Japan Chin excites every lovers of small dogs. The Japan Chin is very inspiringly, joyful, always ready to play, but also watchful. Regular brushing and combing, by removing dead hair with roots, guarantees full development of the beautiful and fantastic hair.

Heritage
Refering to standard descending from white German "Großspitz", appearing since the 1920s in Japan. Later imports from North America, Australia and China followed. This breed was created for Japanese living circumstances. It is small, handily and friendly.

Usage
Family company dog.
Nature and behaviour
Intelligent, joyful, waky, "must not make noise". The Japan Chin (Nihon Supittsu) is a pleasant, social mate, who is watchful, indeed, but never barks too much. Against strangers it is friendly reserved, however, neither nervous nor shy.

Keeping
A nice, always good-humoured Chin, who adapts to all living situations. Feels comfortable both in lively families in the country and with elderly people in cities who can walk with it a lot. The Japan Chin is lively, but not too full of life, this pet loves activity and attention, without requesting sporty action. This as appartment dog bred Chin is uncomplicated and gives joy also to beginners. The long fur needs regular care.
Acestei rase nu îi este încă atribuită nicio canisă!