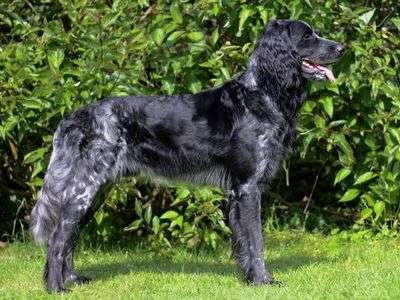 Münsterländer-ul mare este o rasă germană cu recunoaștere oficială din partea FCI (Fédération Cynologique Internationale). Este vorba de un câine de vânătoare ce aparține de grupa pointerilor, care arată vânătorului când au găsit prada împușcată.
The Large Munsterlander like its small representative, the Small Munsterlander, is related close to the French Epagneul Francais. In the environment of Munster it was developed and used as German Sheperd aswell as hunting dog until the end of the 19th century. But the Large Munsterlander is not spread very widely. Most of the huntsmen prefer the German Roughhaired (Deutsch Drahthaar) as prototype of a pointer. Today the Large Munsterlander is mainly a dog for company because it has a very soft nature.

Heritage
Originally the Large Munsterlander is a variety in colour of the German Roughhaired (Deutsch Langhaar), besides descendant of the medieval long haired bird dogs, that were excluded from the Deutsch Langhaar breed. Their lovers bred the black-white dog as own breed.

Usage
Versatilely used hunting dog, its strength is the work after the shot.

Nature and behaviour
Likes to lead, quick to learn and lively. It is sure in reading hints. Excellent in work with water. Watchful, in family the Large Munsterlander is loyal.

Keeping
The robust, useful with every weather Large Munsterlander has been kept with the Munsterlander farmers always as family- and watchdog. That's why the Large Munsterlander has got a narrow connection to human beings. If it is trained appropriately and due to its dog nature, very pleasant at home. Nevertheless, it should be educated for hunting and should be led to go to the revier. Only for accompanying the Large Munsterlander cannot realize its passion for hunting and will search for possibilities to do so on its own. The simple long hair can be cared for easily.
Acestei rase nu îi este încă atribuită nicio canisă!