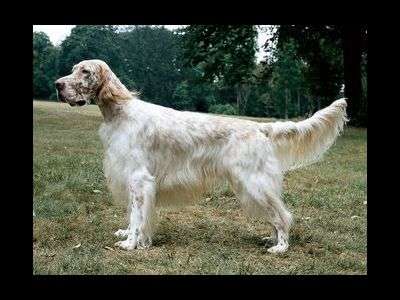 Un britanic inteligent și activ cu instincte deosebite și un aspect unic
The legs are strong, full of muscles and straight. The English Setter has got from the ears slightly waved long and silky hair. It exists in the following colours: white with black, white with yellow (like a lemmon), orange, white with liver-colour or three-coloured (white, black and tawny). Prefered are English Setters with points. The English Setter shows as pointer a good nose, quick search, plenty of will to retrieve and is not afraid of water, so you can go to the lake with it. The English Setter is descended from the Spanish Pointer Perdigueros and long haired Spaniels and in the United Kingdom of Northern Ireland and Great Britain it has been breeding purely for a long time already. The time of strict selection established in the year 1825 Sir Edward Laverack, who defined as criteria especially the look and the achievement. The name Setter refers to the habit, to sit down nearly by finding deer [engl. set, setzen). The English Setter is a tremendeously nice dog for company. It needs daily care of the fur by brushing and combing. Besides it needs lots of moving, of course.

Heritage
Descendant of the long haired bird dogs from the Middle Ages, crossed with pointers. In the nineteenth century Sir Laverick influenced it as modern breed.

Usage
Pointer on wild birds that can do other hunting tasks, too.

Nature and behaviour
Particularly friendly and good-natured. Highly passionate, lively hunting dog, that can search widely, fast and with high nose. If it has taken sense of smell, it shows a characteristic pointer position, runs further by the hunter's commando, so the bird can fly up to be shot.

Keeping
Being a dog for company, the English Setter is lovely and pleasant, but it is important that it can live its passion for hunting and the joy of fast running. With loving consequence it can be well educated. But if it cannot hunt together with its human being, it will try on its own on every occasion. The really very beautiful English Setter is a very demanding, agile dog for sporty human beings. The simple long hair needs regular care.
Acestei rase nu îi este încă atribuită nicio canisă!