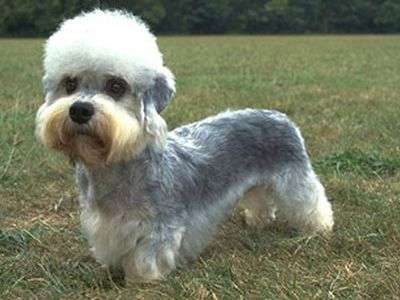 Dandie Dinmont Terrier a început să fie crescut în secolul al XVIII-lea, originea sa exactă nefiind întru totul clară, dar se știe că rasa a fost ținută în principal de către călători și muzicanți și provine din regiunile engleze și scoțiene. Din acest motiv, au fost numiți și "border" (de graniță). Pentru că s-a dovedit ca și vânător de vulpi și vidre, acest terrier a ajuns iubit de fermieri. Mult timp, această rasă a fost cunoscută și drept "pepper" (piper) sau "Mustard" (muștar) și și-a obținut denumirea actuală dintr-un roman. Sir Walter Scott a descris în cartea sa "Guy Mannering" acest cățel agil și curajos, ce era inteligent și strâns legat de stăpânul său, Dandie Dinmont. Nivelul de recunoaștere a terrierului și totodată popularitatea sa au crescut repede și însăși Regina Victoria a primit cadou de la soțul ei un astfel de terrier.
Deși primul club din Anglia a fost creat deja în 1875, rasa este destul de necunoscută în Germania.
Totuși a obținut recunoașterea în 1987 de la FCI ca și rasă independentă și aparține astfel Grupei 3 (Terrier) și Secțiunii 2 (talie mică, fără verificare de lucru).
Origins of Breed
The Scottish Dandie Dinmont Terrier is known since 1814. The Scottish author Sir Walter Scott mentioned this dog breed in his novel "Guy Mannering". Because of this the Dandie Dinmont Terrier is a popular dog in Great Britain. Its origin is unknown, but speculative it is a crossing between many terriers. The hunters needed a small dog with short legs, which is quite strong and persistent and had a great hunter instinct. Its hair had to be waterproofed. They needed something like a hunter assistant, to intrude dens and kill small carnivorans.
The breed began in 1870 in Great Britain. At that time this dog breed was very popular. In the mid of the 19.th century Queen Victoria got a Dandie Dinmont Terrier.

Physique
The Dandie Dinmont Terrier is a small, muscular dog, which can reach 25 cm and weigh about 11 kg. It can have the colours pepper or mustard, so that it is also called the Mustard or Pepper Terrier.
This breed has rough, short hair, which is also waterproofed.
Its visage appeals intelligent, its eyes are round and dark.
Its legs are curt, but strong and muscular.
A lot of people say, that the Dandie Dinmont Terrier looks similar to the West Highland White Terrier.

Character and Temperament
This dog breed is a real philosopher. First it thinks about a thing, after this he reacts.
The Dandie Dinmont Terrier is a perfect hunter, because of its instinct. Even today a lot of hunters need this dog breed to go rabbiting. But it is not only a hunter, it is also the perfect companion dog.
The Dandie Dinmont Terrier is a brave, eager to work and independent small dog, which is very intelligent and determined. It can be stubborn, but also sensitive, devoted and graceful.
This dog breed is very intelligent, but its owner has to be intelligent, too. Otherwise the Dandie Dinmont Terrier will not be biddable. If it is not well educated, the Terrier can also react aggressive in some situations.
It is a good dog for people with a lot of time. Sometimes this breed acts very sceptical to children.

Required Traits for Showing
You will not see the Dandie Dinmont Terrier often on showings. It is not the typical beauty with long, shiny hair. It's a hunting dog, which loves to do walkaways and other stuff like this.
Acestei rase nu îi este încă atribuită nicio canisă!