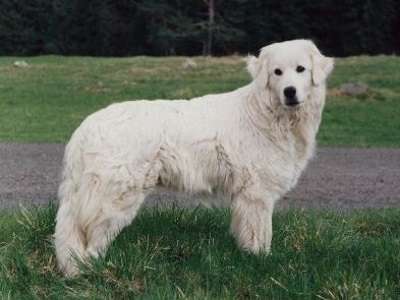 Impunătorul și puternicul Slovensky Cuvac sau – în traducere – cuvacul slovac a fost inițial un câine de stână. De aceea s-a pus deja un accent mare pe obținerea de exemplare curajoase și rezistente pe tot parcursul creșterii rasei. S-a dorit ca aceștia să fie totodată echilibrați și de încredere. Câinii acestei rase sunt foarte loiali față de familia lor. Chiar și în prezent, aceștia sunt folosiți izolat ca și câini de cireadă, respectiv de turmp, nu doar în munții Slovaciei.
History
The Slovakian Chuvach comes originally from Slovakia. The breed was already grown in the mountains of Moravia for centuries. It belongs to the group of large, white shepherd dogs that have evolved in different countries. This dog has adapted to the harsh climate and the harsh conditions of his homeland over the centuries. There he was used as herding and sheepdog as well as as a guard dog for the house and yard. The Slovakian Chuvach was bred only in white, so one could easily distinguish it from attacking wolves. This dog was an indispensable helper for the alpine farmers in the high mountains.

Breed Standard
The breed characteristics of the Cuvac correspond to the type of mountain dog of strong constitution, stately shape and thick white fur. He has a strong bone structure, has a lively temperament and is vigilant, fearless and intelligent. For centuries it has adapted to the harsh climate of the Slovakian mountains, especially the Tatra Mountains. His form has a moderately rectangular format that is well utilized by the body and rests on strong, fairly high legs. His intelligence and vigilance have helped him to his name, as the Slovak word "Cuvat" means "hear". Its elongated skull is strong and broad at the top. The nasal bridge has a straight profile and is about half as long as the whole head. The expressive eyes are dark brown and have an oval shape. The currently set neck is as long as the head. Even the back is straight. The breed looks generally very strong, especially the males. With the exception of the head and limbs, the coat forms a dense fur without a parting on the back and without feathering on the tail. A yellowish tinge on the ears is permissible, but not desirable. Distinct yellow patches are not permitted. According to the breed standard male dogs have a shoulder height between 62 -70 centimeters. They weigh between 36-44 kilograms. With a shoulder height of 59-65 centimeters and a weight between 31-37 kilograms female dogs are slightly smaller and lighter.

Character
This powerful and resilient dog has a balanced, bold nature. The Slovakian Chuvach is closely connected to his family, but reacts quite reserved towards strangers. He protects reliably humans and animals entrusted to him as well as his territory. It can be quite dominantly appear towards other dogs. Its hunting instinct is not very pronounced. Like all guard dogs is the Cuvac also not necessarily a dog for beginners. Because of this the breed is very independent it requires some experience in education as well as a lot of patience and empathy. It should get enough run in the form of long walks. He should also be able to move freely as possible on large grounds.

Special Features and Care
These dogs are adapted to extreme weather conditions due to the specific nature of their fur. The elastic hair does not stick together and stay loose forever, so that they are organized for airflow during summer and insulate in winter. It is enough to brush the fur occasionally. The dogs should not bathe if possible. Male dogs grow a clear mane.
Acestei rase nu îi este încă atribuită nicio canisă!